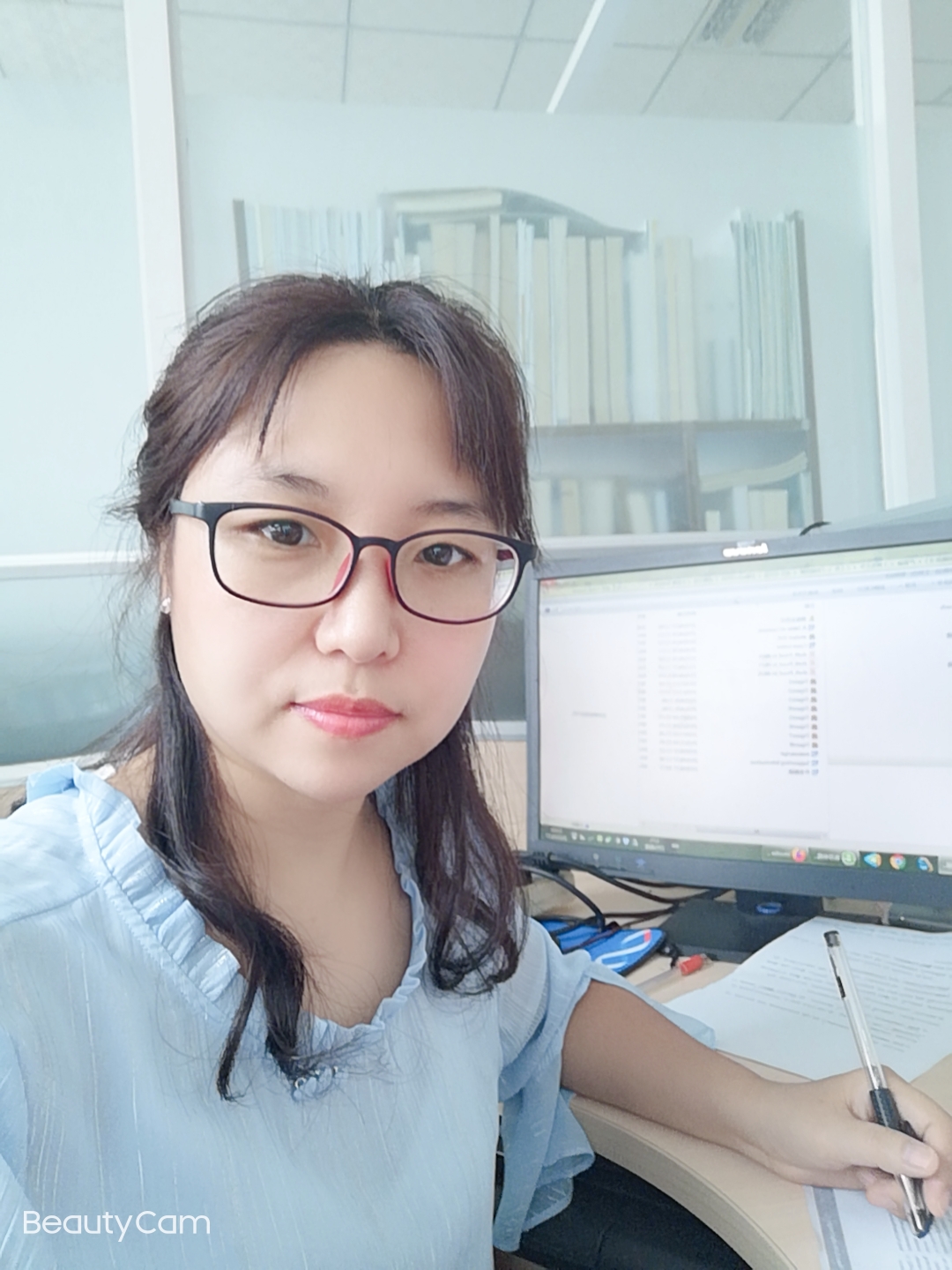 严景丽
一、个人简介
严景丽, 中国科学院化学研究所(2010-2013),北京大学博士后(2013-2015)。现为副教授,硕士研究生导师。迄今为止,发表SCI收录论文12篇;获授权中国发明专利1项,先后主持了国家自然科学基金、博士后面上基金、公安部开放课题,共计3项课题。
联系方式:E-mail: yanjinglichem@hbu.edu.cn

yanjinglichem@163.com

二、主讲课程及研究方向
1.主讲课程:基础化学分析实验、基础分析仪器实验
2.研究方向:DNA和microRNA的检测分析,DNA甲基化及RNA甲基化的分析研究,体液鉴定分析方法的建立。
三、代表性论文
1. Wenyue Zhang, Wenhui Hao, Xuetao Liu, Xiru Sun, Jingli Yan* and Yucong Wang*, Visual detection of miRNAs using enzyme-free amplification reactions and ratiometric fluorescent probes. Talanta, 2020, 219, 121332.
2. Zhenhao Zhang, Jingli Yan* and Zhengping Li*. Peroxotungstate oxidation- mediated two-phase amplification system (POM-TPAS) for bisulfite-free quantification of locus-specific 5-hydroxymethylcytosine. Chemical Communications, 2020, 56, 3111-3114.
3. Zhenhao Zhang, Xiao Shan, Pengbo Zhang, Weiliang Liu, Jingli Yan* and Zhengping Li*. Highly sensitive quantification of site-specific 5-hydroxymethylcytosine at single-base resolution by HpaII-mediated ligation PCR. Organic & Biomolecular Chemistry, 2019,17, 9849-9853.
4. Weiliang Liu, Jingli Yan*, Zhenhao Zhang, Hongru Pian, Chenghui Liu and Zhengping Li*. Identification of a selective DNA ligase for accurate recognition and ultrasensitive quantification of N6-methyladenosine in RNA at one-nucleotide resolution. Chemical Science, 2018, 9, 3354-3359.
5. Hui Wen, Hui Wang, Honghong Wang, Jingli Yan*, Hui Tian and Zhengping Li*. Ultrasensitive detection of site-specific DNA methylation by loop-mediated isothermal amplification. Analytical Methods, 2016, 8, 5372-5377.
6. Yue Huang†, Jingli Yan†, Qi Li, Jiafei Li, Shouzhe Gong, Hu Zhou, Jianhua Gan, Hualiang Jiang, Gui-Fang Jia*, Cheng Luo*, and Cai-Guang Yang*, Meclofenamic acid selectively inhibits FTO demethylation of m6A over ALKBH5, Nucleic Acids Research, 2015, 43, 373–384.
四、获奖
新型生物标志物microRNA的高灵敏度、高选择性的分析,2017年河北省自然科学奖二等奖(第五名)。